Creative Writing For Teens at the 2017 Gaithersburg (MD) Book Festival:  May 20 from 4:00-5:00 at the Children's Village Workshop Tent:
Using participatory writing prompts, teen writers will have an opportunity to experience and learn more about how workshopping techniques can assist them in their creative writing. They will have a chance to share their work and get feedback as time allows. They will receive information about MWA's teen writing clubs which are offered without cost at libraries throughout the state as well as other resources to further their writing.
The workshop is free and open to all teens and a great chance to find out more about the ongoing MWA teen writing clubs and the experience of being a writer (see below for information about the Gaithersburg club which I co-facilitate).
———-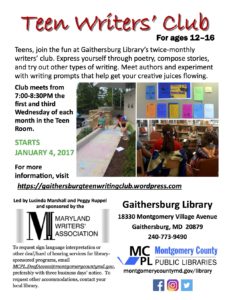 Gaithersburg Teen Writing Club (ongoing):  A club for teens who love to write, facilitated by Lucinda Marshall and Peggy Ruppel, sponsored by the Maryland Writers' Association.  We meet at the Gaithersburg, MD library 7-8:30 pm, on the first and third Wednesdays of the month.
Update: See below for The Town Courier article about Lucinda Marshall and the Gaithersburg Teen Writing Club.
———-
Read The Town Courier article about Lucinda Marshall and the Gaithersburg Teen Writing Club: