Sign up is now available for my workshop:  Writing Poetry for Resilience and Resistance.  Here are the details:

Time: 11:00 AM-1:00 PM
Dates: 4/2 and 4/9
Location: The Writer's Center
4508 Walsh Street, Bethesda, MD 20815
Fee:  $80

Writing political poetry is an act of bravery, and a potent tool for social and political change. In this workshop, we will examine current and historic examples of this genre as well as use writing prompts to talk about ways in which we can make our own work more powerful. Resources for publishing and presenting politically informed work will also be discussed. If you have already written work in this genre, please bring a sample of your own poetry. It does not have to be a polished piece, we will be workshopping these poems, so this is an opportunity to get feedback on work that is in progress. Please also bring a political poem written by someone else, we will be discussing how these poems do and do not work and why.
This will be a wonderful opportunity for those who want to use their creative voice to speak up in this time of political dis-ease, even if you have never done so before.
Also please note, the workshop again this summer on the evening of June 6 and 13.  I'll post the information for that registration when it is available.
———-
Creative Writing For Teens At The 2016 Gaithersburg (MD) Book Festival:  May 21 from 4:00-5:30 at the Writer's Center Tent:
Using participatory writing prompts, teen writers will have an opportunity to experience and learn more about how workshopping techniques can assist them in their creative writing. They will have a chance to share their work and get feedback as time allows. They will receive information about MWA's teen writing clubs which are offered without cost at libraries throughout the state as well as other resources to further their writing.
The workshop is free and open to all teens and a great chance to find out more about the ongoing MWA teen writing clubs and the experience of being a writer (see below for information about the Gaithersburg club which I co-facilitate).
———-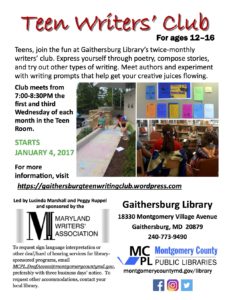 Gaithersburg Teen Writing Club (ongoing):  A club for teens who love to write, facilitated by Lucinda Marshall and Peggy Ruppel, sponsored by the Maryland Writers' Association.  We meet at the Gaithersburg, MD library 7-8:30 pm, on the first and third Wednesdays of the month.
Update: See below for The Town Courier article about Lucinda Marshall and the Gaithersburg Teen Writing Club.
———-
Read The Town Courier article about Lucinda Marshall and the Gaithersburg Teen Writing Club: