The inaugural DiVerse Gaithersburg Poetry Reading and Open Mic in January was an enormous success! 35 people came to hear Luther Jett and Sunil Freeman (Kim Roberts was unfortunately not able to join us due to illness). Their wonderful readings were followed by 12 people who read at the Open Mic.
Many thanks to everyone who contributed to making the afternoon a success, especially the library staff and the folks who volunteered to help with set up, including members of the Gaithersburg Teen Writing Club. Thanks also to everyone who helped to promote the reading in so many ways and to Serena Agusto-Cox for broadcasting the reading on Facebook.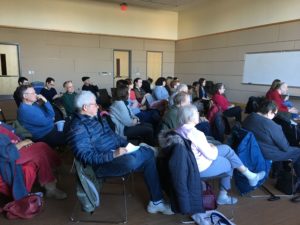 Please join us at 2 pm on February 11th at the Gaithersburg Library when our featured poets will be Alan King, Sarah Browning, and J. Howard.