Several weeks ago, I signed up to testify at an environmental hearing, something that I've never done before.  Why?  Not because of any special expertise, although I've been involved and concerned about environmental issues all of my life, and written about this issue multiple times on my blog and elsewhere.
Rather, it is because I am a citizen of this country who lives in an area that is deeply and detrimentally impacted by the poor regulation of the coal industry and the toxic impact it has on our environment. The Environmental Protection Agency is in the process of holding hearings throughout the country regarding proposed plans to regulate  coal ash ponds like the one that was breached in Tennessee in 2008, causing horrific damage. This week there will be a hearing in Louisville, KY where I live.
Currently, these ponds are virtually unregulated.  But despite being a news reading junkie, until the Tennessee disaster, I had no idea these things even existed, let alone that their owners were apparently on the honor system in regard to their safety.
This map, via the Sierra Club, gives a great graphic understanding of how many of these disposal sites there are in the U.S. (see here as well for an excellent list of resources to learn more about this horrific problem).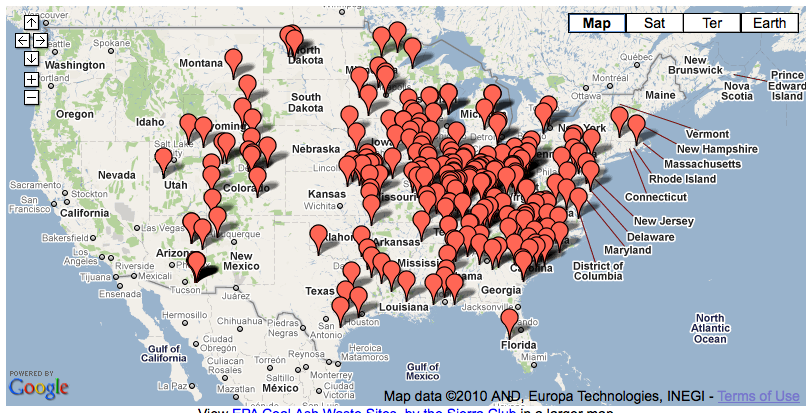 So call it an act of patriotism, or just a variation on the subject matter of my usual ranting and raving, but I decided to participate and to tell the Environmental Protection Agency that as a citizen, I expect them to do what their name implies.  Here is my testimony:
Testimony for the EPA Coal Ash Residuals Public Hearing
Louisville, KY Sept. 28, 2010

My name is Lucinda Marshall and I've lived in Louisville, KY for more than 20 years and I'm appalled that it wasn't until after the Tennessee coal ash disaster that I became aware that we have toxic coal ash ponds right here in metropolitan Louisville.

According to the Sierra Club, in the state of Kentucky alone we have 44 ponds at 17 plants, 7 of which are rated as high hazards, and 5 as significant hazards.  This is unacceptable.

After the incredible damage caused by the Tennessee pond breach, I am particularly horrified that these things are located in the middle of a large population center such as Louisville.  If such a disaster happened here, the damage it would cause would be unimaginable and far worse than the Tennessee disaster.

Given that, I absolutely can't understand how the EPA can consider anything but the most stringent guidelines for these facilities with the ultimate goal of making them illegal.  It is beyond belief that these wastes are still considered exempt from such regulation.

There has been report after report documenting the highly negative impact that coal has on our environment as well as on human health.  I am particularly concerned about the impact on pregnant women and children.

And all that talk about how coal is good for the economy?  That sure hasn't worked out so well in Kentucky which remains one of the poorest, least educated and least healthy states in the nation and no amount of building golf courses where amputated mountaintops used to stand will change that.

The people of Kentucky, the southeast and the entire nation deserve the right to a clean environment that is not being poisoned because of corporate malfeasance and greed and it is incumbent on the Environmental Protection Agency to do what its name implies and stringently regulate coal ash disposal.

Thank you.
———-
(Note:  There is a three minute time limit on on testimony that is presented publicly, thus the brevity of my statement, much more can and should be said.)