A few years ago we spent a long weekend at a lovely hotel on the pristine St. Petersburg, FL shore. We walked along the beach, collected shells, ate seafood. Yesterday I got an email from them telling me they weren't Pensacola and to come on down, the water's fine. They even have their own no-spill-here -cam.
Unfortunately, while tar balls are not washing up on their beautiful beach (at least not yet), the safety of the water is not something I would want to bet on.  While I have all the empathy in the world for people wanting to salvage the economic remains of their lives, there are some serious questions about the safety information we are getting regarding the Gulf.  As Chamber of Commerce denizens are madly (and I do not use that word lightly) telling us the only oil you need to worry about is the suntan variety, marine biologist Dr. Riki Ott, who is an expert on the impact of oil disasters, notes that,
"Public officials have failed to sound an alarm about the public health threat because three federal agencies – DHHS, EPA, and OSHA – cannot find any unsafe levels of oil in air or water. Perhaps the federal air and water standards are not stringent enough to protect the public from oil pollution. Our federal laws are outdated and do not protect us from the toxic threat from oil – now widely recognized in the scientific and medical community.

BP is still in the dark ages on oil toxicity. BP officials stress that, by the time oil gets to shore, it is "weathered"

and missing the highly volatile compounds like the carcinogenic benzene, among others. BP fails to mention the threat from dispersed oil, ultrafine particles (PAHs), and chemical dispersants, which include industrial solvents and proprietary compounds, many hazardous to humans.

If oil was so nontoxic, then why are the spill response workers giving hazardous waste training? Our federal government should stop pretending that everything is okay. What isn't safe for workers isn't safe for the general public either."
It bears remembering as well that the monitoring that is being done of air and water quality is not up to elementary school science standards in some regards.  NRDC's Gina Solomon points to sample results that, "don't say where they were taken, and who was in the area."
Questions have also been raised about testing labs with ties to BP and the veracity of assertions that dispersants are not in the air and increased arsenic levels. And then there is the matter of report after report of reporters being denied access to the effected areas.  Bottom line–between deliberate misinformation, denial of access to information and an approach to scientific fact checking that is less sophisticated than a kid's chemistry set, assurances of safety along the Gulf are suspect at best.
But that is not even the most dangerous part of the story.  As I pointed out a few weeks ago, the oil disaster, first framed by BP, the government and media as a regrettable spill, quickly escalated into a war that needed to be fought. As Anne McClintock writes,
"Billy Nungesser, indefatigable President of the Plaquemines Parish, implores anyone who will listen: "We will fight this war….We will persevere to win this war." For Ragin Cajun, Democratic strategist, James Carville: "This is literally a war… this is an invasion…We need to hear someone say 'We'll fight them on the beaches.'" Retired Gen. Russell Honore, who oversaw the Katrina debacle, insists: "We need to act like this is World War 111. Treat this like it's an invasion…equal to what we decided about terrorists. We've got to find the oil and kill it."…

…Visit the BP site (one of the more surreal Alice-Through-the-Looking-Glass internet experiences) and you will see the word "kill"–BP's favored, faux-techno buzzword–appearing with ritualistic incantation. Kill the well, kill the leak, kill the oil, which morphs into "kill mud" (the mud that will kill the leak) and "kill lines" (the lines that follow the pipes to kill the leak)..

…So why are people calling the calamity a war and why does it matter that they do?

Calling the oil the 'enemy' helps us not to question who was culpable in the first place. Calling the response 'a battle front' helps us not ask who, other than the military, should be in charge. Calling the spill an 'invasion' helps us not to see that our global culture of militarization is what got us into the mess in the first place. Calling the spill a 'war' only fuels the pervasive militarization that produced the crisis in the first place. And calling the oil the enemy helps us not admit how much we, the consumers, having awakened the oil from its ancient slumber to fuel our gas-greedy lives, are the most complicit of all…

…All this war talk would be understandable, defensible even, were it not for a fatally circular, feedback loop. BP would not be in the Gulf drilling deeper than it knows how to drill were it not for its uniquely profitable relation with the US military war machine. The United States Department of Defense buys more oil than any other entity on the planet. The protection of overseas oil is now so unquestioned that even Defense Secretary Gates warned against the "creeping militarization" of U.S. foreign policy. And to fuel this militarization, the Pentagon uses 75% of the oil bought by the DOD for its jets, bombers, drones, tanks, and Humvees. And in order to keep buying this oil, the military has to keep protecting our regional oil interests, two thirds of which are now in conflict prone zones. US military bases in Iraq and Afghanistan use a staggering ninety million gallons a month. And to garrison this vast, global gas-station, the DOD keeps expanding, which means buying more oil.

From whom? In 2009, BP was the Pentagon's largest contractor at $2.2 billion…

…Keeping this in mind, we would do well to remember that militarization is the number one cause of environmental destruction in the world, and that military production facilities, which are exempt from environmental restrictions, are the most ecologically devastated places on earth. We drill, we spill; nature pays the bill."
GritTV's Laura Flanders asks some important questions about the connection between the economy, which according to experts such as Paul Krugman and Robert Reich is in serious trouble, and the military:

"The US is currently shedding hundreds of thousands of jobs each month. It's not just in the Ozarks that the recruiters are the only ones with jobs around. The economy shed 125,000 jobs in June. That's about the number of troops we have left in Iraq…

…We've long heard about fighting people over there so we don't have to do it here. Is the colder truth becoming that we're sending people over there because we sure can't employ 'em over here? And we're scared to death of what unrest might come with a massive return of men and women who've served and endured — and who expect something better for their families than starvation wages, and no social services when they get back?"
I think there is a lot of truth to that as well as to the fact that a bad economy makes for fruitful military recruitment when kids can't get jobs or afford college, why not join the military like that cool recruiter who hangs out at lunch in the cafeteria in that bad-ass uniform is pushing you to do.  As McClintock points out, the military is  busy defending the oil on which its existence depends. And for that it needs an endless supply of human cannon fodder.
And so we fight pointless wars without end rather than actually defending our citizens or literally, our shores.  We allow the real enemy to tell us how to 'clean' up the resultant disaster and to control the information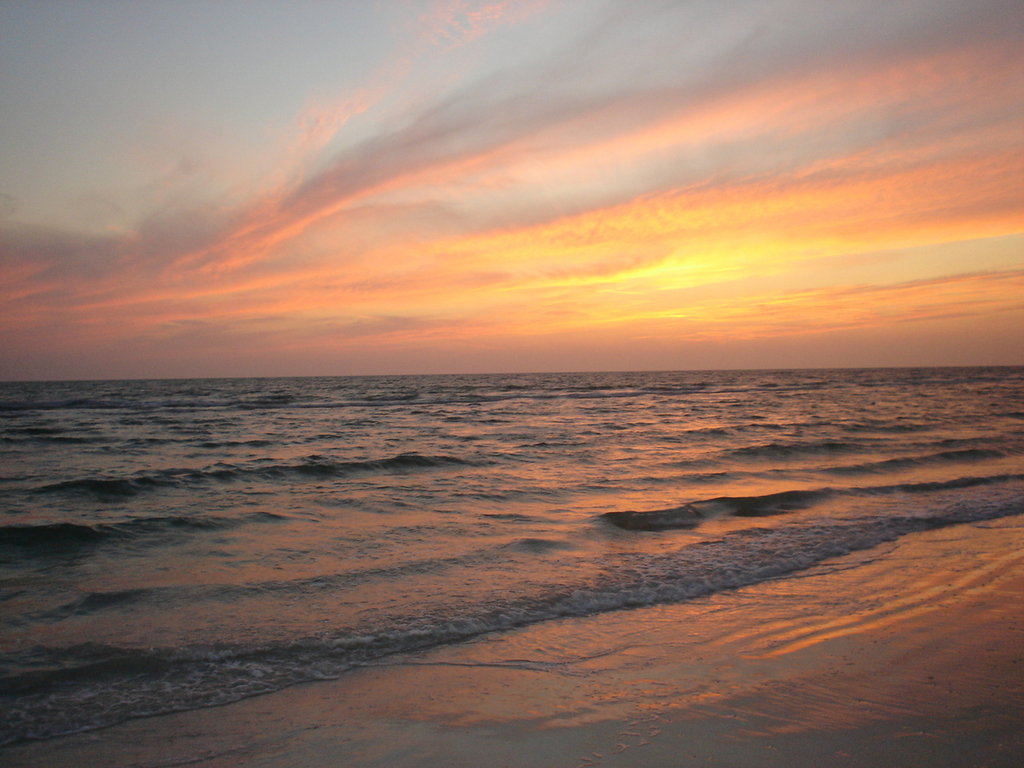 flow even while the oil flows unabated, because we are addicted to their product and our Congress has been bought off.
As for the beaches of St. Pete–are they safe?  Perhaps.  I hope so, but we simply cannot have enough confidence in what passes as data to say so, even if the damage is not visible.  What is unquestionably dangerous however is the wholesale usurpation of government oversight by a  lawless private corporation and the denial of freedom of the press in covering this story.  As damaging as this disaster has already been to the ocean, shoreline and inhabitants of both, it will continue to be more so unless we insist on proper precautions, good science and full transparency. Above all, it is time to take a long overdue, very hard look at just what our military is supposedly defending and why and how, in the end, real security is defined.