No sorry, this is not a post about my social life.  I swore I wouldn't join the pundit-infested SOTU post-mortem, and I'm only going to do so briefly, but when we've reached a point where the analysis includes whether or not Emily Post would be rolling over in her grave, all bets are off, although I'll keep it brief.
Sputnik?  Really?  What percentage of Americans even know what Sputnik was?  The analogy is old, stale and just plain off the mark. That the President sees the future as a winnable race does not bode well.
And then there was the salmon joke.  Ha ha.  But not really ha ha if you consider the peril to  survival that salmon populations face these days.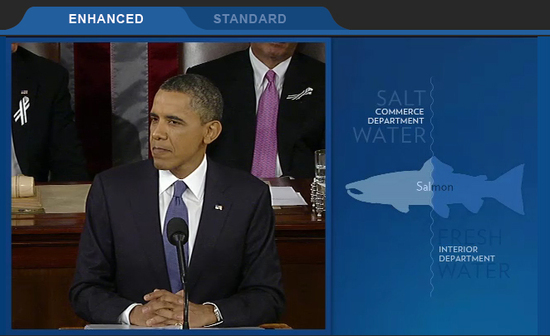 The speech was delusional as SOTU's always are. Imagine if just once, a President got up to that podium and told the truth.  In the meantime, we should take heart from Miss (Judith) Manner's comments about the speech,
"Date night worked," said Judith Martin, author of the syndicated Miss Manners column. "Instead of looking like a hockey game … it looked like a dignified legislature."
One can hope.  I give it about 24 hours until the pucks start flying again.